Reduce the rotational torque, support the stem, and make it separate from the valve body effectively, reduce the wear of the valve stem.
after polishing treatment, with the valve seat precision.
to achieve zero leakage of air tightness test requirements, the opening and closing torque is small, extend the service life of the valve seat.
Stem seal is not easy to deform, thereby avoiding the usual stem leakage.
the utility model has the advantages of high precision and high strength, and is suitable for the installation of the handle and other control devices.
Device for regulating or cutting off medium in pipeline.
Suitable for hand lever, worm gear, electric and pneumatic control.
Design and manufacturing standards comply with API 609.
Pressure test is in accordance with API 598.
the structure length is in accordance with API 609.
Side flange standard in accordance with GB/T17241 PN1.0MPa, PN1.6MPa and ASME B16.1 125PSI.
Fluid medium: water, oil, gas and various corrosive media
Using temperature: -10 ~ 120
Applicable pressure: PN1.0 ~ 1.6MPa
Applicable size: DN50 ~ DN600
Connection: Wafer
Connection standard: GB ANSI DIN API ISO BS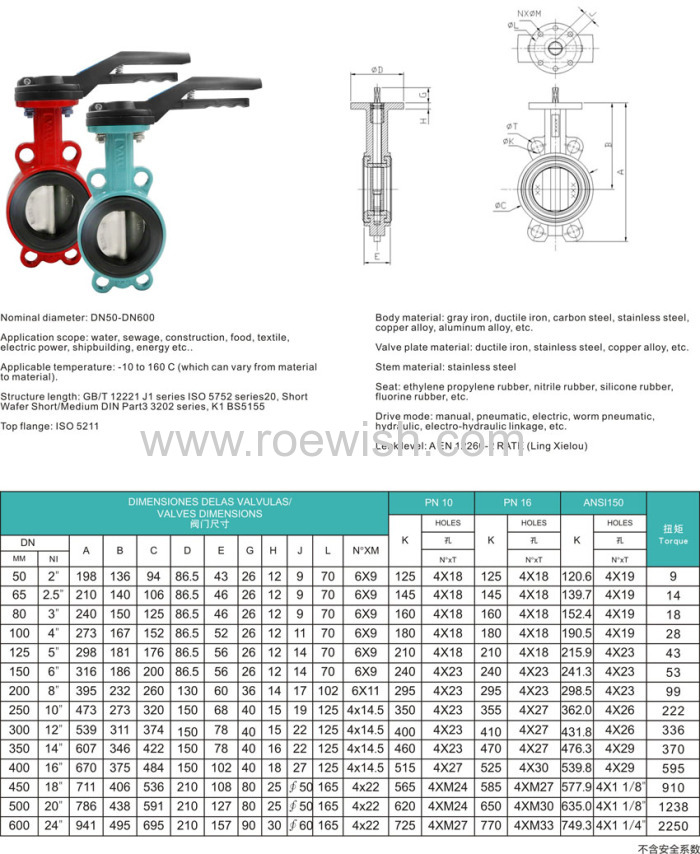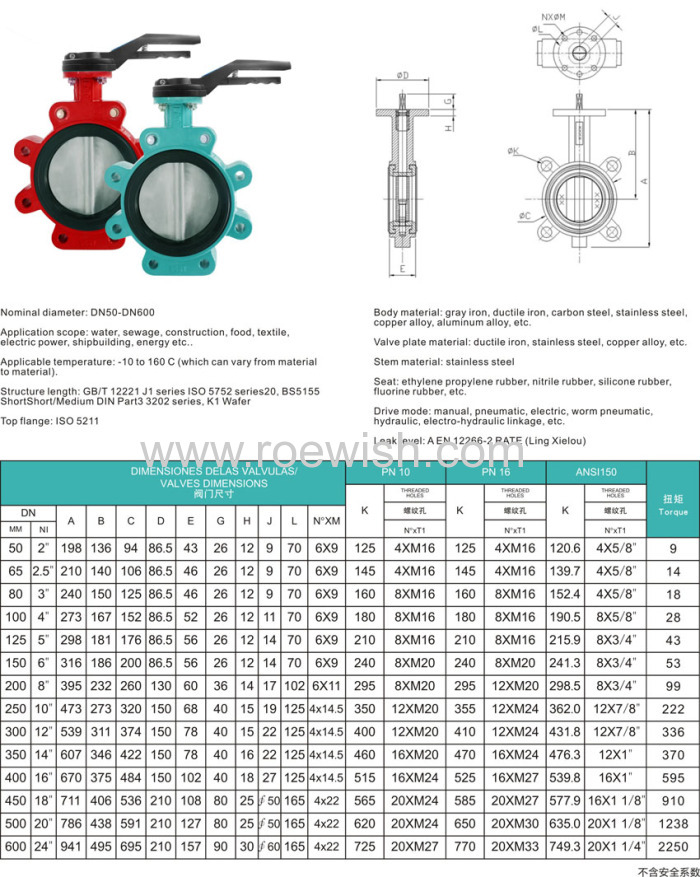 Roewish specializes in manufacturing kinds of valves and actuators. Our goal was to establish Roewish as the high performance company. Throughout our history Roewish has earned a reputation of excellence by creating products of superior value and quality, providing personalized customer service and on-time delivery. The key ingredient has always been a fully integrated product line innovatively engineered to meet the real needs of the process industry.