Pump Photos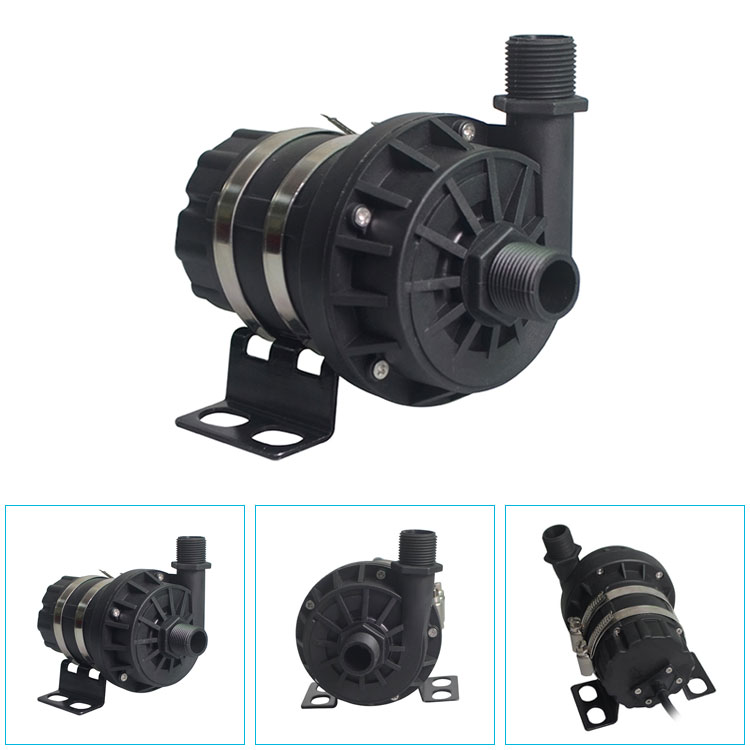 Pump Main Features
t
1. Sine Wave Silent Technology, Noise less than 40dB;
t
2. Default with water shortage and stuck protection functions;
t
3. Brushless DC motor, Magnetic Driven, Small size & High Efficiency;
t
4. Long time continuous working, lifespan more than 20000 hours;
t
5. Safety - no spark, Explosion-proof, IP68, 100% waterproof;
t
6. Can be used to pump water, oil, acid and alkali solution.
Pump Applications
t
1. Indoor/Outdoor/Garden Small fountain.
t
2. Music fountain for Disco Bar/Stage Performance.
t
3. Industrial Equipment Cooling System.
t
4. Automotive Cooling System.
t
5. Other applications.
t
Here only list very few part of the pump's applications, if you are not sure if it is suitable for your project, please feel free to consult with us. In addition, we have many other models pumps, if you have different requirements, such as inlet and outlet, new design, and etc., please tell us. We have many other solutions and could provide you Custom Services.
Parameters
tttttt
Model: BL-A01-2412
ttttttt
Size: 141.3x100x118mm
ttt
Weight: about 900g
ttttttt
Inlet: 1/2" thread
ttt
Outlet: 1/2" thread
ttttttt
Material: Engineering Plastics
ttt
Heat Resistance: -40~125°C
ttttttt
Rated Voltage: DC 24V
ttt
Rated Current: 4.0A
ttttttt
Max Static Head: 12 meters
ttt
Max Flow Rate: 3300L/H
ttttttt
Plug: 5.5×2.1mm DC Plug
ttt
Cable Length: 1 meters
ttttttt
Water Proof: 100%
ttt
Self-priming: No
ttttttt
Driven: Brushless Magnetic
ttt
Noise: less than 40dB
ttttttt
Life Span: more than 20000 hrs
ttt
Speed Adjustable: Optional
ttt
Pump Performance Curve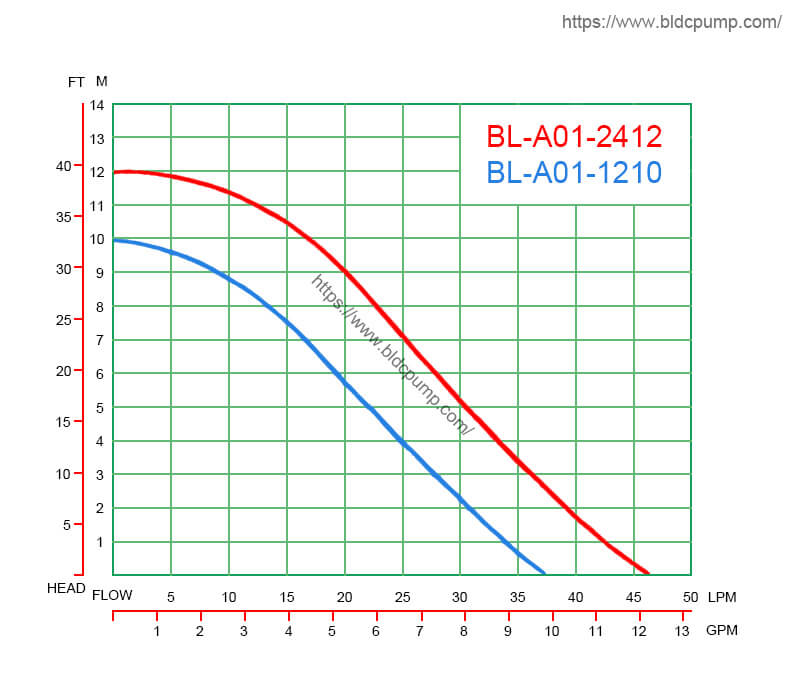 Pump Dimensions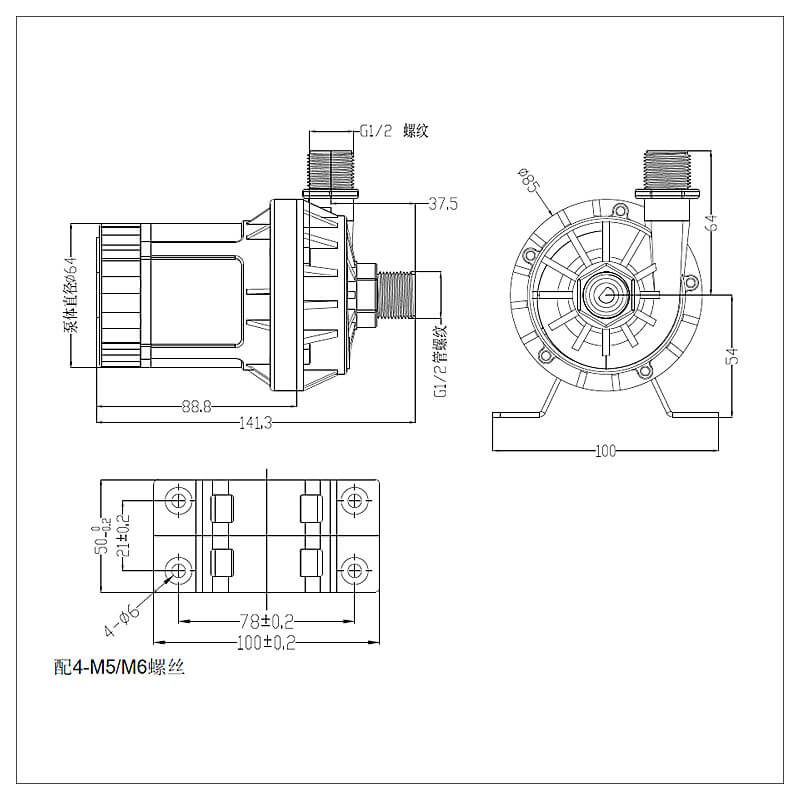 Installation
About BLDC PUMP Technology Company Limited
As one of the leading small DC water pump companies in China, we produce brushless DC pump from 2009. We ship our special purpose circulation pumps to manufacturers, retailer, and companies worldwide. We are based in the technological heaven of Shenzhen, China. We make sure that our products provide best quality and standard to its customers, OEM/ODM service is available. Looking forward to establishing a healthy business relationship with you!
Customized Service Content:
t
1. The label on the surface of the Water Pump.
t
2. Box of the Pump.
t
3. Power Cable Length.
t
4. Type of Connector Plug.
t
5. Waterproof Power Supply.
t
6. Water Shortage Protection.
t
7. Others, please communicate with us.
Customized Quantity Requirements: 100 pcs
Additional Cost:
We will not charge any additional fees except the cost of raw materials. Usually, the unit price will be only a little higher than the normal standard model pump.
Applications
Brushless DC pumps are widely used in various fields such as Automotive & Mobile, Home Appliances, Laboratory & Testing, Commercial And Industrial, Printing & Packaging, Environmental & Water Treatment, Food & Beverage, and etc.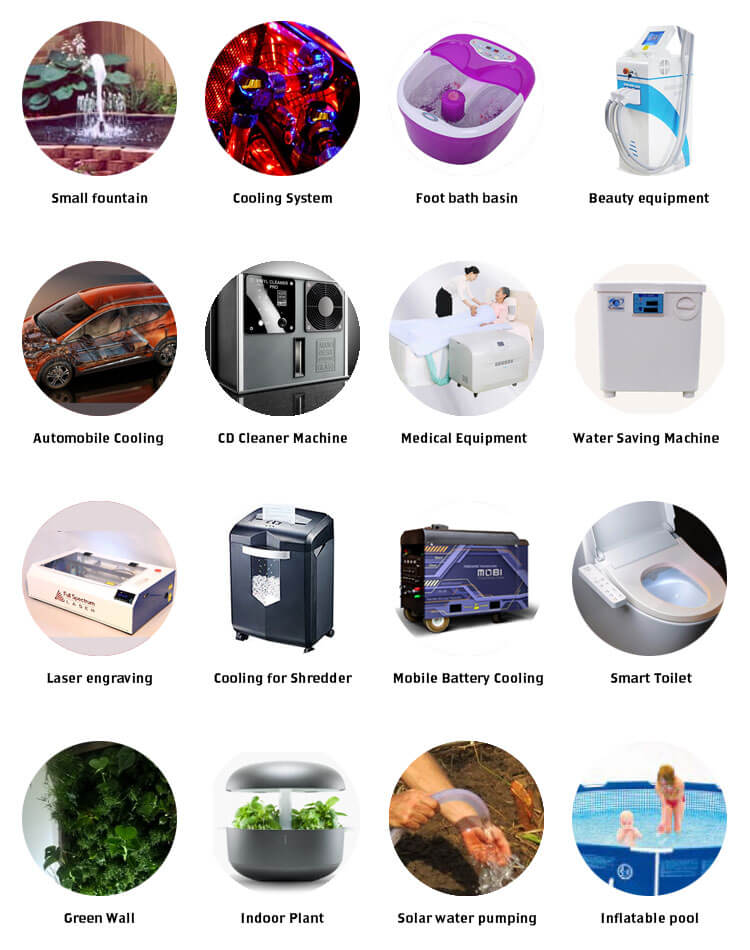 We, the BLDC PUMP Co., Ltd., are a water pump manufacturing company who specializes in small water pumps. We ship special purpose water pumps to manufacturers, retailer, and companies worldwide. We are based in the technological heaven of Shenzhen, China.

At BLDC PUMP Co., Ltd., we provide you the best water pumps of all sizes suited for all your needs. Our high-quality electric water pumps are specially designed to work for long hours in submerged or circulating environments. Equipped with brushless DC motors, the pumps are waterproof, with no current leakage. The magnetically driven motors produce high torque without any sparks with very low electromagnetic interference and quiet operations. They are very efficient, reliable and can work uninterrupted for hours with a long working lifespan.

The specialized water pumps can be used in a number of industrial machines, office equipment, automobiles and household appliances without worrying about any safety and quality issues. In industries and offices, they can be used in circulating cooling systems, cars/automobiles coolant pumping, filling stations, pools, and other industrial machines etc. In homes, the BLDC water pumps can be used in applications, such as aquariums, small fountains, landscaping features, solar water systems, small irrigation systems, water treatment equipment, etc.

We make sure that our products provide best quality and standard to its customers. We are open to working as OEM/ODM for our customers worldwide with our global drop shipping delivery with competitive direct selling prices. Looking forward to a healthy business relationship with you!