Gas Sensor TGS2610-C00 for LP Gas Detection
Feature :
low power consumptions
High sensitivity to LP and its component gas (propane and butane )
Long life and low cost
Uses simple electrical circuit
linear voltage output
Application :
Residential LP leak detctor and alarms
Portable LP detectors
LP gas and vapor detection
Specfication

Description
TGS2610 is a semiconductor type gas sensor which combines very high sensitivity to LP gas with low power consumption and long life.
Due to miniaturization of its sensing chip, TGS2610 requires a heater current of only 56mA and the device is housed in a standard TO-5 package.
The TGS2610 is available in two different models which have different external
housings but identical sensitivity to LP gas. Both models are able to satisfy the
requirements of performance standards such as UL1484 and EN50194.

TGS2610-C00 possesses small size and quick gas response, making it suitable
for gas leakage checkers.
TGS2610-D00 uses filter material in its housing which eliminates the influence
of interference gases such as alcohol, resulting in highly selective response
to LP gas. This feature makes the sensor ideal for residential gas leakage
detectors which require durability and resistance against interference gas.
Linear voltage out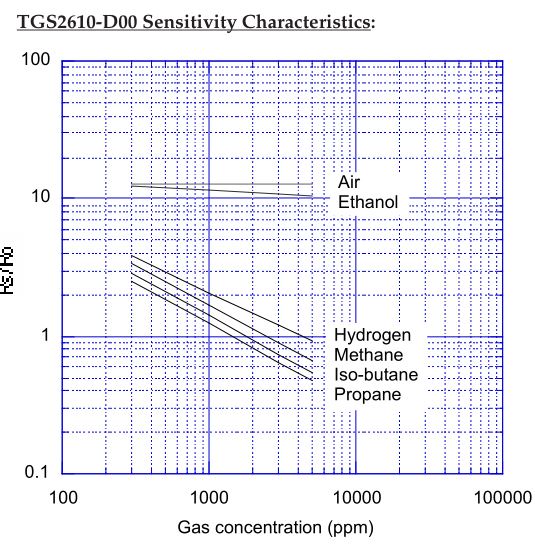 Any questions or problem ,pls feel free to contact me .
ISweek is the industry sourcing and direct marketing platform launched by OFweek, Chinese high-tech web portal. ISweek has gathered abundant high-quality industrial products around the world, and is dedicated to providing one-stop product distribution and procurement services for buyers, suppliers, traders, and manufacturers of industrial technology products.

OFweek is a comprehensive web portal in Chinese high-tech industry with over 2 million members across various fields; its information covers a wide range of high-tech fields, including lighting, LED, solar PV, optical communication, laser, optics, display, electronics engineering, industrial control, robot, smart grid, instrument and meter, sensor, energy conservation and environmental protection, wind power, power supply, lithium battery, electric power, telecommunication, Internet of Things (IOT), cloud computing, 3D printing, smart home, wearable device, new energy vehicle, and medical technology, etc. OFweek can provide advertisement, data, activity, conference, webinar, domestic and foreign trade B2B, HR, industrial research report, industry consulting, investment and financing as well as other services; and it's becoming the fastest growing industrial comprehensive e-commerce platform in China.

Technology changes the world. ISweek and OFweek are always working together with those excellent partners, to become the most valuable partnership of our customers.